Homework ahead for BJR after tough Race 7
Date Posted:29 April 2023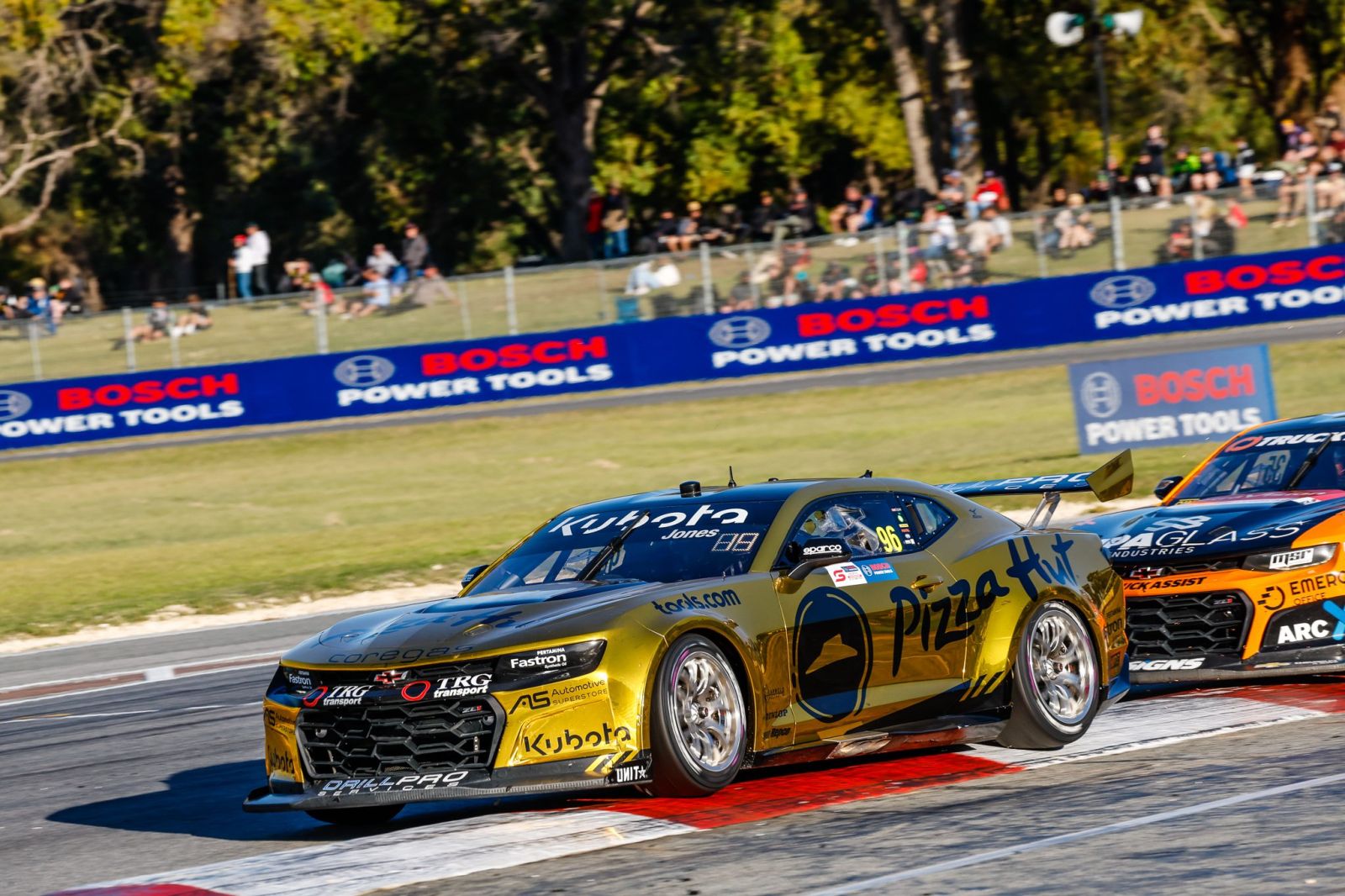 Brad Jones Racing will be studying the data after Race 7 in the Supercars Championship in Perth.

All four BJR Camaros experienced shorter than expected tyre life which really stung in the 42 lap race at Wanneroo Raceway.

The team will spend the evening poring over data to come back stronger for tomorrow's two races.

Bryce Fullwood, who started the race out of 10th was the highest finnisher of the squad in 15th.

The Middy's Electrical competitor had shown some promising speed over the race, pushing forward before he struck issues with his tyres.

The #8 Camaro of Andre Heimgartner made a flash start, with the Kiwi gaining several spots.

The R&J Batteries car was briefly looked at after being involved in an incident with competitor Cameron Waters, however they were both cleared.

Macauley Jones in the #96 Pizza Hut Camaro held his own at the start of the race but faded quickly and experienced tyre drop off dramatically.

A pit stop problem made life difficult for the #4 SCT Logistics driver Jack Smith, who lost three laps.

The four BJR cars are back on track tomorrow for qualifying at 9:15 AWST for Race 8.

Super2
Lochie Dalton in the #43 ZB Commodore charged to fourth in qualifying, however felt there was more in the car.

Dalton's start wasn't the best in the afternoon's race but made the best of others misfortune and was promoted back to fourth.

Towards the latter stages the ZB Commodore came strong and offered a podium chance for Dalton, however it wasn't meant to be.

Super2 are heading back on track for qualifying tomorrow at 8:50 AWST.

Hear from our drivers…
Andre Heimgartner
Supercars Driver, #8 R&J Batteries Camaro
"I had a great start and we were able to push forward a bit but then it was a bit of a struggle from there. It's the same across all four of us with the tyre life. The team will put their heads together to get an answer."

Bryce Fullwood
Supercars Driver, #14 Middy's Electrical Camaro
"Tyre life really hit us today, we're going to have to do a bit of homework overnight to figure out how to get on top of it. Otherwise the car is quite quick and qualifying was proof of that. I was still able to have fun out there today, but it's just the tyre deg that's hurt us."

Jack Smith
Supercars Driver, #14 SCT Logistics Camaro
"It was a difficult day. The car wasn't too bad in qualifying, I just lost a little bit of time there which was unfortunate. And again in the race, we had that problem in the pit stop and that took us out really. We'll spend some time now and get on top of it for the next two races."

Macauley Jones
Supercars Driver, #96 Pizza Hut Camaro
"Today definitely didn't go to plan - the tyre life in the race really hurt us. We just weren't able to get them to last the way we expected to. Quali was promising, we had that one lap speed in the first session - so the car's fast, we just need to get on top of the tyres for tomorrow."
Lochie Dalton
Super2 Driver, #43 ZB Commodore
"The day was pretty good. I think we ended up P4, I just didn't quite get the most out of the car. But I think we were half a 10th off pole. So it was pretty tight. And then race one - I looked like a bit of a rookie at the start, I bagged it up and went back to sixth. And I was lucky that the two in front got into each other. So I was able to move back to four. And then our car came on really late, which was good because Best started to fall away. And then just as I started to attack him, I made a mistake. And he got a bit of a gap and then sort of just finished there. So a little bit disappointing. We could have had a podium but otherwise that's pretty good."
---
Leave a comment