Tough end to Perth weekend for BJR
Date Posted:30 April 2023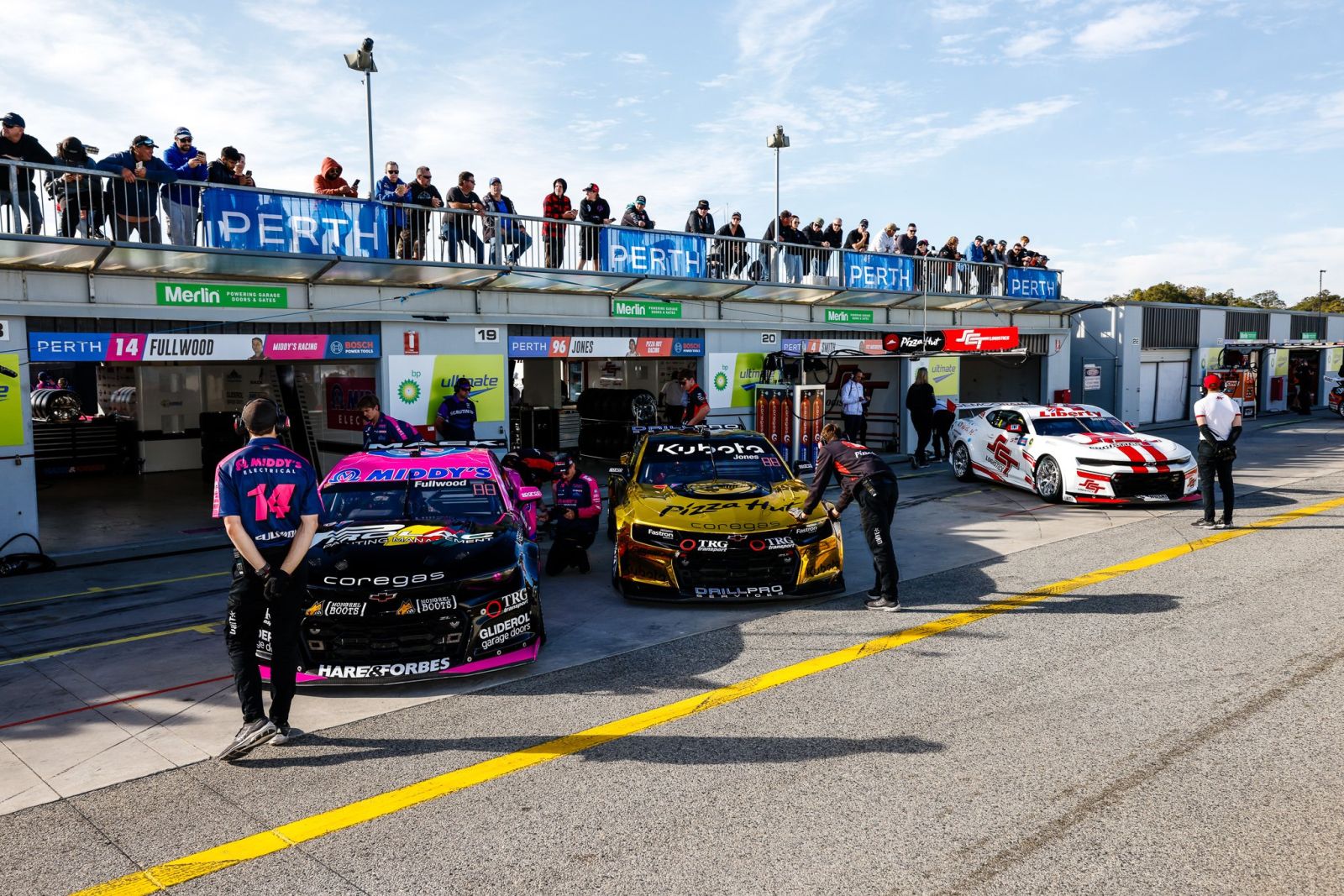 The two Supercars Championship races on Sunday in Perth were contrasting events for BJR.

The earlier race provided a better result for the squad, with all four cars showing speed and strength.

Race 9

Three of the four BJR cars weren't able to make the most of the earlier qualifying session which in turn hurt their chances in Race 9.

Bryce Fullwood, who started out of 22nd did have the most momentum and went past the chequered flag 17th.

Andre Heimgartner's crew made the call to change four tyres at his stop, however the brave move didn't secure a result with the Kiwi finishing in 22nd.

Jack Smith in the #4 SCT Logistics Camaro found himself early on fighting against the crowd and eventually came up three spots to finish 21st.

The #96 Pizza Hut Camaro also climbed up three spots to 20th, who had pitted early to try and get out of traffic and had a longer end stint.

Race 8

Race 8 saw three of the BJR cars charge forward, with Jones making the most ground pushing to 16th, making up seven spots in the 42 lap race.

Heimgartner claimed 10th after starting out of 14th.

The R&J Batteries driver found himself in a few intense on track battles, but kept cool and found himself in the top ten.

Meanwhile Smith also made ground and had plenty of pace, which was a stark turnaround from yesterday and the tyre issues the team ran into.

Fullwood kept in touch with Heimgartner in the latter stages of the race, also involved in the train battling for a spot in the top ten.

The Middy's Electrical driver fell just short and finished in 12th.

Tasmania will be the next round for the Supercars Championship on the weekend of May 19-21.

Super2
Lochie Dalton leaves Perth with the confidence of finishing third overall in the second Super2 round of the year.

Dalton was a little bit disappointed with his qualifying performance, where he thought there was more than 8th in the car.

The Tasmanian made an incredible start, picking off a few cars and eventually secured 5th.

Super2 next races beside Supercars in Townsville in July (7-9).
What our drivers had to say…
Andre Heimgartner
Supercars Driver, #8 R&J Batteries Camaro
"So Race 8 this morning wasn't too bad I felt like we made some gains and raced to 10th which was solid from where we started. Unfortunately that last race we really struggled to get speed throughout the race and I finished nearly last so very frustrating but hopefully we have some things to learn from this weekend."

Bryce Fullwood
Supercars Driver, #14 Middy's Electrical Camaro
"We struggled a bit today and this weekend really for race car performance. Quali I think it was okay. We missed the mark a little bit for the last one, which is a bit of a bummer. I felt like we did the best we could with what we had today. I was quite happy to finish 12th, all things considered in the first race. The second race was quite hard starting from so far back, we did manage to come up five spots which I think is still not too bad, but definitely got some homework to do."

Jack Smith
Supercars Driver, #14 SCT Logistics Camaro
"Both races were quite tricky. We lacked a little bit of pace we just needed to fix up a few areas and with that we could have been a lot faster. We made up spots which is good, but just not quite enough. I think we've all got a little bit of work to do for Tassie."

Macauley Jones
Supercars Driver, #96 Pizza Hut Camaro
"The first race today I was actually reasonably happy with. The car balance was really strong, made some good changes because the qualifying speed wasn't overly flash for us. So I think we improved that a heap and made a few passes, which is awesome. Second race, the thing just didn't really light up. So we sort of battled a little bit with that We had to pit early just to try and get out of some traffic and going long around here can be quite difficult, but we sort of hold on to it and moved a few spots further up top. There's probably need to rethink some of our set up items. heading into Tasmania."
Lochie Dalton
Super2 Driver, #43 ZB Commodore
"We started off with quali this morning. We pretty much banged out the same time as yesterday. But it wasn't quite enough, just under drove the car a little bit, probably a little bit in the car as well. But we knew we had a strong race car. And then in the race it was just all about managing the tyre and keeping clean. I got one off the start and then managed to get another one on the opening lap. And then a little bit of stuff happened throughout the race and I was able to pick off a few more who made mistakes. After that we're able to finish third for the round, which is really good."
---
Comments (1)
Leave a comment