BJR celebrates Heimgartner podium in Melbourne
Author: Brad Jones Racing Date Posted:2 April 2023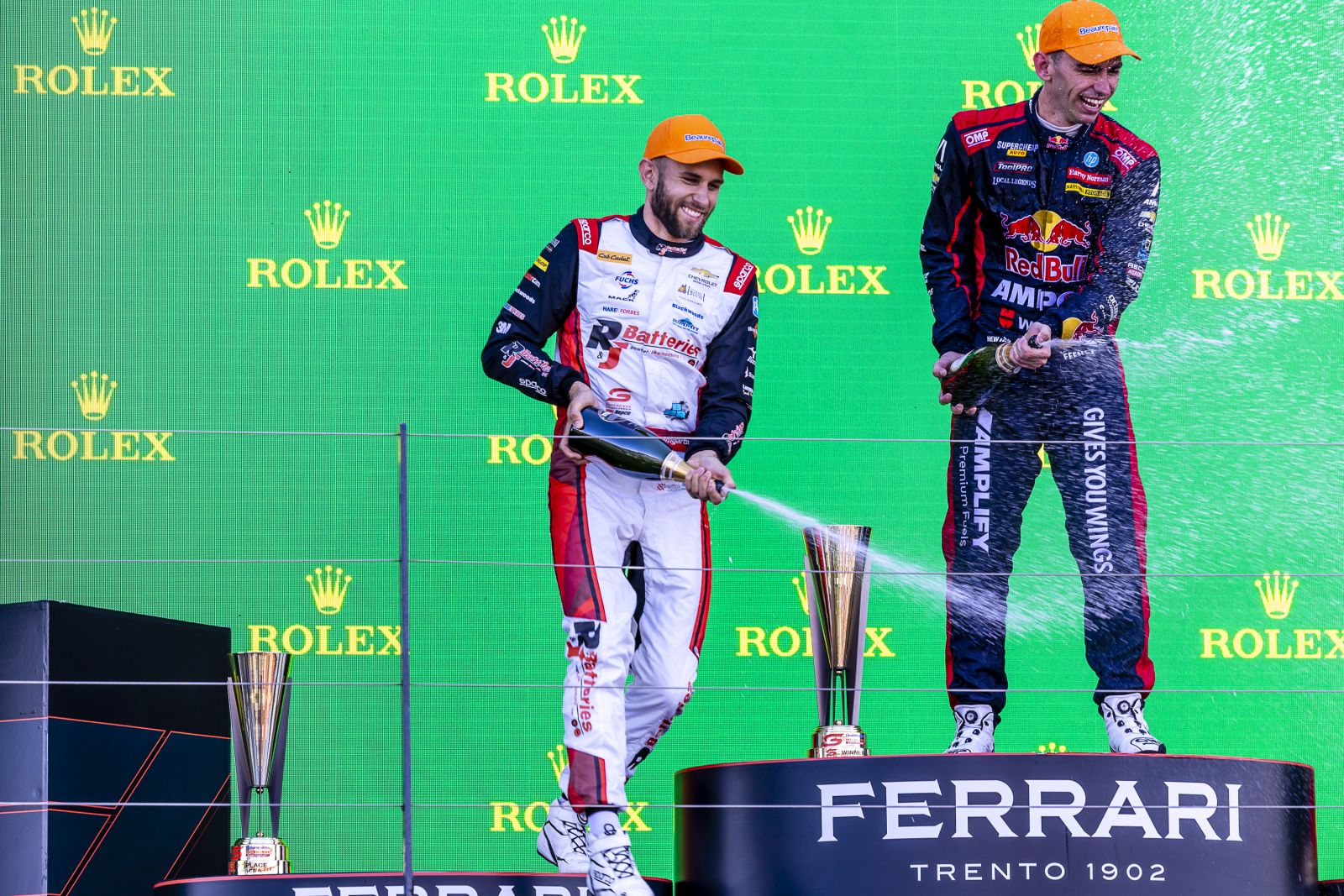 Andre Heimgartner scored his first Repco Supercars Championship podium of the year in the final race of the Melbourne SuperSprint with Brad Jones Racing.

The new father, who welcomed his daughter Summer late last week, took to the second step of the rostrum earlier today after a brilliant strategic call by the team.

Heimgartner in the #8 R&J Batteries Camaro had started the race on the Hard tyre and lost out early in the race, losing positions on track before coming to the lane and taking the Soft option.

As the rest of the 13-lap encounter played out Heimgartner held his nerve and pushed forward, coming across the line in second position.

The result keeps Andre in fourth in the drivers' championship.

Team-mate Bryce Fullwood (#14 Middy's Electrical), provided a sensational drive, starting out of fifth position he very quickly dispatched two of the cars ahead to find himself battling for the podium.

When race leader Chaz Mostert and Will Brown touched slightly, sending Brown off the track, Fullwood was promoted to second.

The Darwin-born driver than chased down Mostert and artfully passed the Mustang driver for the lead, which he held until his pit stop.

It was there were the race came undone, a slight error in pitlane saw Fullwood given a 15 second penalty.

He came across the line in fourth but was quickly demoted to 17th as the penalty came through.
Macauley Jones (#96 Pizza Hut) made great strides in the race today, pushing forward from 13th to seventh, with another fantastic strategy call from the team.

Seventh is Jones' best result this year, and the Pizza Hut Racing driver has shown speed across the weekend.

The #4 SCT Logistic's Camaro of Jack Smith finished in 18th, however the young driver enjoyed and won hard fought battles with others on track and ran in the top ten for a lot of the race.

The #8 and #14 side of the garage for Brad Jones Racing now sits in third in the teams' championship.

A slow stop in pitlane dropped Smith down a few positions and he unfortunately lost out.

Brad Jones Racing now heads back to base before the Perth SuperSprint (April 28-30).
What the drivers had to say….
Andre Heimgartner
Supercars Driver, #8 R&J Batteries Camaro
"Started out not too bad, fastest in practice two. And then yeah, it just went downhill from there. So really struggled in those subsequent sessions. Luckily this weekend was so long. And by the time you're done the first race and all the of the qualifyings you're now at Friday night, so got the opportunity to reset. We looked at some stuff; Bryce and their side made some good gains. So we just basically bolted that in for yesterday and today and produced some really good results. So we're very happy. And as a team, we performed very well with Macauley in seventh. So overall strong day for us."

Bryce Fullwood
Supercars Driver, #14 Middy's Electrical Camaro
"Realistically it was a pretty cool day for us today we started fifth in the race and I got a pretty good start. We got a little bit held up behind Chaz in the first part of the race, which kinda hurt us. But ultimately, we passed him and trucked on as realistically the first car home on the Soft tyre strategy, which I think is something to be pretty proud of. Unfortunately, I got an unsafe release in pit lane, which was actually my fault. I didn't realize Frosty was turning in front of me because I couldn't really see who's actually in the lane. I could just see a car and so that was my fault, which was a real shame. I think there's a lot of positives to take out of this weekend. We've been pretty fast. You know, we've learned what it takes to be up there and yeah, it's a sign of what's to come."


Jack Smith
Supercars Driver, #14 SCT Logistics Camaro
"The race was not too bad, I think considering where we started. We had pretty good pace in the race and a slightly slow stop kind of cost us a couple of spots. It was always going to be hard to defend people on worn Softs, going out on fresh Hards so yeah, I think we kind of minimized the damage as best we could. And yeah, it was an okay day again, considering where we started."


Macauley Jones
Supercars Driver, #96 Pizza Hut Camaro
"It was interesting doing the rolling start. We started on Hards which was a bit of a battle for that first lap sort of struggled a little bit on the Hards for that one lap that we did and then the Softs - I think outright pace is really good, it didn't quite look after its tyre as well. But I had a good battle there with Cam Waters. And yeah, like pretty stoked. The car's definitely fast around here and hopefully we can take a few of these things to Perth which is a very different circuit. I think as a group we learnt a lot and big thanks to the crew for repairing the thing overnight after we sort of got clipped in the rear and then put it in the fence last night. Gen3 seems to be a bit of a pretzel but it's good that we could get together and get that fixed for a fast race car."
---
Leave a comment